Legal Status of Animals Dead Person Unborn Child and Idol under Jurisprudence: Introduction of Legal Person:- The word 'person' comes from the Latin word "persona", which simply means a mask used by actors in drama plays of various roles. The word was used to describe the role a man played in life until the sixth century. It then begins in the sense that a living being can have rights and responsibilities.
Definition of Legal Person
Legal person definition – Jurists defined 'legal person' in various ways.
Gray defines an individual as "an entity toward which duties and privileges can be delegated."
Salmond defines "individual people to whom the law actually applies abilities and obligations"
Law was developed together with society, and the concept of legal personality was developed with the development of law. In ancient civilizations, there was no concept of legal personality, although with the progress of society the person was recognized as the State representative and a distinctive personality was bestowed on him. As companies were formed over time, separate personalities were given and these entities are now referred to as legal entities.
That means that legal entities can be identified as matters, property masses, or as legal institution that has rights and duties as natural person in the eyes of the law.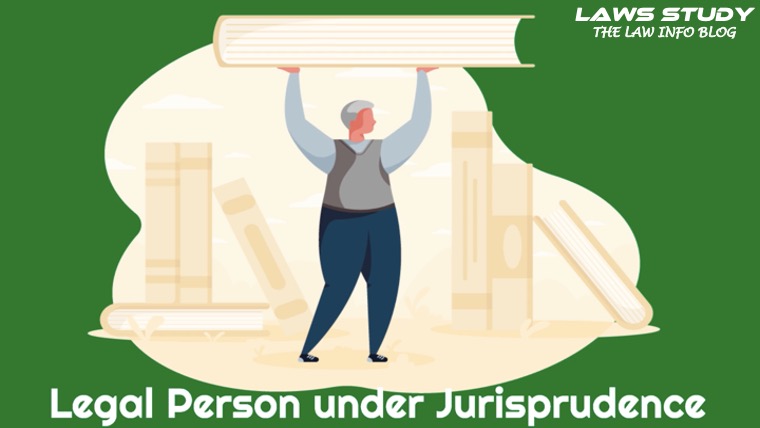 Person Kinds: There are 2 kinds of people which are as follows:
Natural Person
A natural person is a living being with a natural individuality: A single individual, according to Holland, is a living being with rights & obligations. A requirement of a normal human being is that he should be born alive, and he must also have essential human features. In general, a person is a person's ability to sue and be sued.
Legal Person/Entities
Legal Persons / Artificial Persons: A fictitious thing is something that does not exist in reality but is probably considered to exist in the eyes of the law. For instance, a company or corporation, an idol, and so on.
Status of Legal Person
Unborn Child
An unborn child is not a natural or legal person because he does not exist, but a child in the womb is a natural person because he has legal rights and obligations. The position after birth can be represented by a person in the womb. The child in the womb is considered a natural person in IPC as soon as any of his organs come out of the womb. If the pregnant woman is sentenced to death, she will be hanged only after delivering a baby.
An infant inside the mother's womb is considered a person in both criminal and tort law.
Sec. 13 of T.P.A, allows assets to be transferred for the benefit of a foetus in the womb. Similarly, section 114 of the Hindu Succession Act of 1925 requires the implementation of prior interest before making an unborn child the owner of the property – corporeal or incorporeal – but no assets are recognized entrusted in the unborn child unless or until he is born alive.
In Hindu Law, an infant inside the mother's womb is also considered to exist for a certain specific purpose. Such a child is entitled to coparcenary property under "Mitakshara law".
According to Sec. 315 of I.P.C, inflicting prenatal injury on a child capable of being born prematurely and preventing it from being so may constitute child destruction.
According to Sec. 416 of the Cr.P.C., when a female condemned to death is eventually discovered to be pregnant, the H.C. can order the execution of the sentence to be delayed and, if necessary, commute the punishment to life sentences.
Paton does not acknowledge a child as a legal person in the womb of a mother because he has no rights. According to him, a child will be conferred legal personality only when the child is alive and fully separated from the womb of his mother. It is, however, alleged that this view is unsustainable as the majority of the world's legal systems have incorporated into the provisions of their laws extending legal protection and protecting unborn children's contingent rights.
Animals
In ancient times, animals were legal persons; but even so, in modern times, animals are not legal persons; however, there are some cases in which some animals have certain rights and duties. Today, for the protection of animals, some laws have been enacted that grant animals rights. These laws prohibit people from killing them. Personality has also been confirmed in this theory.
Modern law, on the other hand, holds the master liable for the wrongs committed by their pets, beasts, & animals. The responsibility imposed on the master arises from his negligence and irresponsibility in keeping the animal under control, not from the concept of vicarious liability; accordingly, an act or omission done to a beast could be a wrong done towards its owner or to society of mankind, although not to the beast.
Dead Person
In law, a deceased person has no existence because he or she lacks personality. However, they are considered a person in law in certain circumstances.
First, if anyone defames the deceased, legal action is taken against the offender/wrongdoer who defamed the deceased.
Second, if anyone defames the deceased person's dead body, the said person is legally liable for damages.
Guru Granth Sahib
The Supreme Court ruled on March 29, 2000, in a case titled Shiromani Gurudwara Parbandhak Committee Amritsar Vs, Somnath Das & Others that Sri Guru Granth Sahib is a legal person. The decision does not associate Guru Granth Sahib with a Hindu deity or idol.
Rather, the Supreme Court said that after the religion and ideals of religions differ, there may be no factor in equating one with the difference. The court ruled that, while the Sikh holy book is a sacred book, it cannot be associated with the sacred books of other religions because worship of the Guru Granth Sahib is made decision using special concepts of faith, belief, and adaptation. It is the Sikhs' living and everlasting guru.
Mosque
The Privy Council refused to accept the mosque as a juristic person In Masjid Shahid Ganj V. Shiromani Gurdwara Parbandhak Committee AIR 1940. The argument that a Hindu idol is a juristic character and that a mosque should have appeared as a juristic character as an organization was dismissed. It was opined that there is no lawful analogy between the location of a structure dedicated to Muslim prayer and the character of Hindu gods.
Hindu idols and maths
In Hindu Law, Maths and idols are recognized as juristic persons. The deity, the idol, the major component of the endowment, is characterized as a legal person with respect to the dedication, not the devoted property. This was the privy council's position at all times. In its most basic form, a Hindu idol is a legal/juristic entity, according to long-established authority based on Hindu religious custom and acknowledged by courts of law. It has judicial standing, allowing it to sue and be sued. Its objectives & interests are protected by the person in charge of the deity and the person who is legally its manager.
Conclusion of the Legal Status
The above analysis clearly shows that incorporation was significant because it bestows legal personality on non-living entities such as corporations, institutions, and other organizations, which aids in establishing their rights and responsibilities. These non-living personalities possess legal individuality and can own, use, and transfer assets on their own behalf. This benefit is refused by unincorporated institutions since their existence is not distinguishable from that of their members.
Read more: –