In India, the top 10 career options after LLB is – Law students should read
Value of a law degree in India
After 12th grade, LLB is getting increasingly popular. Previously, students who expressed a strong interest in LLB courses were met with a lot of questions, including Why study law? What career paths are open to those who complete LLB courses? Would it provide sufficient remuneration? Is it only possible to work as a lawyer or a judge? The list of questions goes on.
The explanation is that the law itself broadens the number of possibilities available. You can become an attorney who focuses on a specific area of law. These specializations, as well as other careers, are required in the typical judicial scenario that most people associate with the law! The law gives you access to a wide range of information that will help you in all aspects of your life. You might be able to practice law in a particular field.
Lawyers are more required than ever in a post-COVID-19 scenario, considering the current scenario and the outcomes from various areas. Due to policy improvements, healthcare inequities, economic crises, medical crises, and the vulnerability of small enterprises, effective legal help will be required in the following decade.
In the decades ahead, attorneys would be kept busy. However, India currently lacks sufficient lawyers, and the government would need more lawyers than ever before to meet all of the post-pandemic responsibilities. As a consequence, after completing your LLB degree, you will have a wide range of outstanding job options.
Over the years, the legal profession in India has undergone numerous changes. Lawyers are no longer bound by the walls of the courtrooms where they only represent their clients. Legal graduates presently work in a wide variety of industries, including corporations, information technology firms, administrative services, law firms, & corporate offices.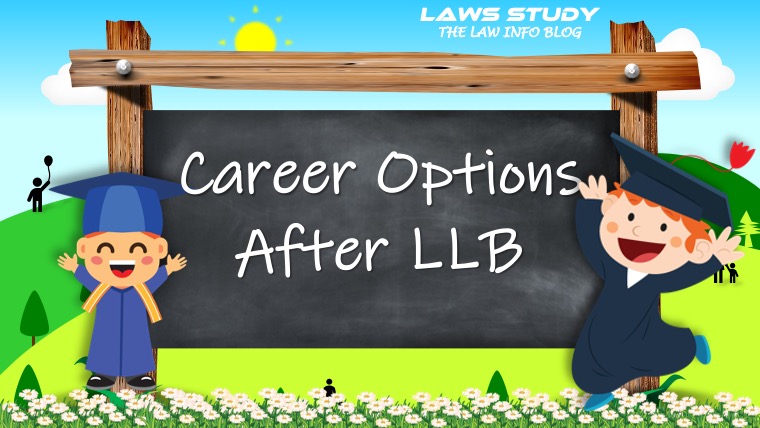 As such, let us now look at some of the most promising LLB career opportunities.
Best career options after an LLB degree
Litigation Attorney
This is one of the most popular career opportunities for lawyers who have passed their LLB course. To practice law in a court, you should have completed a 3-year LLB program or a 5-year or BA LLB course. You would be able to practice law in India as a result of this.
Every law student is expected to complete an internship with a legal firm or a senior advocate. An internship typically lasts one month. You'll need to register with the State Bar Council when you've completed your internship.
Pass the Bar Council of India (BCI) examination and receive your certificate of practice, allowing you to start practicing in court. You can probably earn between 5 lakh To 10 lakh annually, based on your skills and experience, education, and internship experience.
Government Services
Students might opt to work for the government after finishing their LLB. They will be qualified for Indian Legal Services and the different positions it has to offer if they start preparing. Legislative Counsel at the Department of the State Legislature and Legal Advisors in the Department of Legal Affairs are two examples.
Those who fulfill the criteria could join the Air Force, Indian Army, or Navy. They are also eligible to crack UPSC (Union Public Service Commission) or SPSC exams such as HAS and IAS (State Public Service Commission). They can also work as Assistant Public Prosecutors or as a Public prosecutor.
Legal Advisor
After earning your degree in law, you can work as a legal advisor for legal firms, private multinationals, corporate firms, or banks. You can also provide legal counsel on a wide range of issues. Your legal experience could also be useful in non-profit organizations. Clients could get legal counsel from these companies. They also assist individuals to make the best decision possible in a given situation. The majority of large corporations and government agencies employ legal counsel.
Judicial Services
This is one of the finest LLB career opportunities for boosting your career to a position where you play a significant role in your country's administrative affairs. If you are academically inclined and can devote a significant period of time to studying for competitive exams after completing your LLB course, you could join the judiciary
After passing an exam, you can become a District Judge, Magistrate and Session Judge, or Public Prosecutor. Government regulations govern these professionals' salaries.
Teaching
Students with strong academic credentials and the ability to explain and narrate various topics to a group of people are ideal candidates for positions as lecturers at one of the country's top universities or law schools.
When you choose to pursue an LLM, they would be able to do research as well as earn a post-graduate diploma in their various academic disciplines, designed to allow them to become lecturers in both public & private universities.
Generally speaking, obtaining a Law degree is among the first phases forward toward a successful career, and you have more employment options. Understand exactly your choices carefully, and make an informed decision about your future job.
Cyber Law
One of the professions that have witnessed a boom in popularity in recent years is that of a lawyer. As the universe of the internet develops, so does the demand for Cyber Lawyers. A Cyber Law expert should deal with concerns such as copyrights, data protection, cybercrime, and electronic or digital authentication.
Cyber domains are divided into three categories: computers, networks, and mobile devices. To master oneself in the field of cyber law, you can enroll in any diploma program, certificate, or degree. Legal Consultants, Cyber Assistants, and Cyber Lawyers can all work with such a cyber master's program.
Multinational companies (MNCs), corporate organizations, government agencies or public departments, legal firms, and law enforcement agencies can all recruit cyber law specialists. The pay of a cyber lawyer is governed by his or her job title, location, and academic record.
Journalist/ Content Writer/ Reports
If you enjoy writing and have a thorough understanding of the law, this is the career for you. This work will suit you well if you are competent in writing and editing law books for law school students or writing legal articles for various magazines or newspapers. You can also serve as a guide with a journalist who will accompany them at all times.
Legal Analyst
Law graduates may work for legal firms or corporate entities, conducting legal research about the company and its operations. Candidates should first obtain a license so that they can practice law.
Legal experts can indeed assist attorneys with the development of various official documentation as well as provide suggestions. In the realm of commercial law, this is a terrific alternative. It necessitates that you be both intelligent and organized, furthermore being a phenomenal talent. As a consequence, if you have an LLB degree, this may be a viable career option for you.
Politics
You can enter politics if you have an LLB degree and wish to be a part of the government's administration or if you have a political background. This will be facilitated by your familiarity with all three departments of government: legislative, executive, and judiciary. This permits anyone to make a big contribution to the country and become a leader.
It is important to note that in India, joining politics doesn't really require any formal education. Moreover, Most of the other country's top political figures are law graduates.
Furthermore, Indian political history is the best evidence that attorneys are the best politicians in the world. Keep in mind that the whole 250-member assembly that drafted the constitution was made up of attorneys. As a result, if you want to pursue a career in politics, studying LLB is one of the greatest possibilities.
LLM
If you want to know and understand more about law, you can pursue an LLM. This will allow students to gain a highly specialized perspective on a specific aspect of law and master that section.
Because the specialization implies that they will spend much of their time in that field of law, this could be a great chance to make a career choice. An LLM program will not only give you a wider perspective, but it will also guide you to obtain better-paying work opportunities.
Conclusion of the Career Options After LLB
Broadly speaking, obtaining a Law degree is one of the first steps toward a great career, as there are lots of opportunities available to you. Thoroughly examine your possibilities before choosing a career path & make an informed decision.
The legal field provides many opportunities, but it is critical to keep your interests and career goals consistent to succeed. So don't be nervous. If you believe this is your career path, go for it. There are numerous best career options waiting for you.
Read more: –