PM Modi Meets Saudi Crown Prince
Elevating Bilateral Relations: Prime Minister Modi's Summit with Saudi Crown Prince
In a notable development, Saudi Arabia's Crown Prince, Mohammed bin Salman Al Saud, embarked on a three-day State visit to India, commencing with his participation in the G20 Summit held in the national capital. The visit carried substantial diplomatic weight, as it laid the foundation for discussions between Crown Prince Mohammed bin Salman and Prime Minister Narendra Modi.
These discussions predominantly revolved around reshaping and strengthening bilateral relations between the two nations. In this comprehensive article, we delve into the key highlights of their meetings and the broader implications of their strategic partnership.
A Pivotal Meeting
The Saudi Crown Prince's visit to India commenced with great significance as it coincided with the G20 Summit in New Delhi. Trade, economy, defense, and cultural cooperation were at the forefront of discussions between the two leaders. Their talks centered on redefining and revitalizing the bilateral ties between India and Saudi Arabia.
The Strategic Partnership Council
A momentous aspect of the visit was the co-chairing of the first leaders' meeting of the Strategic Partnership Council. This Council was established through a bilateral agreement signed in Riyadh in 2019, signifying the depth and breadth of their strategic alliance.
Significance of the Partnership
Prime Minister Modi underscored the pivotal role played by Saudi Arabia in India's strategic landscape, emphasizing its status as one of India's closest and most significant strategic partners. He highlighted how the India-Saudi Arabia partnership is indispensable for regional stability and the welfare of the global community, positioning it as a cornerstone of India's foreign policy.
Expanding Horizons
Acknowledging the ever-evolving global landscape, both leaders recognized the need to broaden the scope of their partnership. Prime Minister Modi expressed their collective commitment to infusing new dimensions into their ties, aligning them with the changing times. They identified several initiatives aimed at elevating their close partnership to a higher level, reflecting the dynamic nature of modern diplomacy.
The Council's Committees
The leaders evaluated the progress made by the two ministerial committees of the Strategic Partnership Council, namely the Political, Security, Social, and Cultural Cooperation Committee and the Economy and Investments Cooperation Committee. These committees play a pivotal role in advancing cooperation in various areas, spanning politics, security, culture, and economics.
A Comprehensive approach
The discussions encompassed a wide spectrum of bilateral relations, covering political, security, defense, trade, economy, culture, and people-to-people ties. This comprehensive approach reflects the commitment of both nations to engage in a multifaceted dialogue, addressing various aspects of their cooperation.
Regional and Global Issues
In addition to their bilateral agenda, the leaders also delved into regional and international issues of mutual interest. This holistic approach underscores their shared responsibility in contributing to regional stability and addressing global challenges.
The Crown Prince's Visit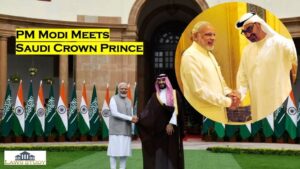 The visit of the Saudi Arabian Crown Prince was marked by a ceremonial reception at Rashtrapati Bhavan, emphasizing the importance accorded to this visit. His meeting with Prime Minister Modi was a pivotal moment in their diplomatic engagement. During this meeting, the Crown Prince expressed his pleasure at being in India and congratulated the nation for hosting the G20 Summit.
Engaging with Dignitaries
Following his engagements with Prime Minister Modi and other dignitaries, Prince Salman had the honor of meeting President Droupadi Murmu at Rashtrapati Bhavan. This exemplifies the warm welcome and hospitality extended to him during his State visit to India.
A Noteworthy Initiative
One of the significant developments during the G20 Summit was the signing of the ambitious India-Middle East-Europe Economic Corridor. Saudi Arabia was among the signatories to this initiative, which is viewed by many as a potential alternative to China's Belt and Road Initiative. This corridor, when completed, could serve as a modern-day Silk Road, fostering economic partnerships, political alliances, and cultural integration across continents.
Deep-rooted Ties
India and Saudi Arabia share a long history of cordial and cooperative relations, underpinned by extensive people-to-people ties. Government data reveals that bilateral trade between the two countries reached an all-time high of USD 52.75 billion in the fiscal year 2022-23, highlighting the robust economic relationship.
Defense and Security Cooperation
Prime Minister Modi highlighted the strong defense and security cooperation between India and Saudi Arabia. He mentioned the existence of a Joint Committee on Defense Cooperation (JCDC), which meets regularly to identify areas of mutual interest and collaboration in the defense and security sectors.
Economic Powerhouses
Both India and Saudi Arabia are major trading partners. Saudi Arabia holds the position of India's second-largest trading partner, while India occupies the fourth spot in Saudi Arabia's list of trading partners.
Their partnership extends to the energy sector, with India importing a substantial amount of oil from Saudi Arabia.
The recent meeting between Prime Minister Narendra Modi and Saudi Crown Prince Mohammed bin Salman Al Saud marked a pivotal moment in the bilateral relations between India and Saudi Arabia. Their discussions encompassed a wide array of issues, reaffirming the significance of their strategic partnership. As both nations continue to adapt to changing global dynamics, their commitment to fostering a multifaceted and forward-looking partnership bodes well for regional stability and global cooperation.
Read More